This year ACOM sponsored two groups at the Festival: a Demo booth in the Bazaar area that demonstrated Armenian Silk work and the Armenian Dance Ensemble of Minnesota which presented dances of Armenia. This year, the ladies wore new costumes for and presented an original choreography for the music Blossoming Cherry (Dzaghagdz Baleni).
Janet Rith-Najarian designed the Demonstration booth and staffed it with a number of volunteers from the Armenian community. The exhibit showcased the importance of Silk and Silkwork for Armenians. A significant draw to the exhibit was the display of silk worms eating their way through many mulberry leaves. This has always been a major attraction for the thousands of students (and adults) who attend the Festival on Thursday and Friday. The story of the Silk Road was illustrated with scarves, hats, dolls and maps. Volunteers interacted with Festival participants in explaining the many aspects of the displays. Kudos to Janet for her dedication, creativity and knowledge in presenting this aspect of Armenian life to the public.
The Armenian Dance Ensemble presented a number of dances at this year's Festival with a total of 9 performances over the 4-day run. The group performed two dances for each of the student days on Thursday and Friday. Tarakema, a graceful women's dance and Yarkhushta, a military type dance done mostly by men as a readiness for combat. As a new feature this year, the Armenians taught the students an Armenian dance at the end of the 1 o'clock set on Thusday. We needed two circles to accommodate the number of students that participated. For the World Stage performances, the group performed a set of two dances from modern and historic Armenia. The first, Dzaghagdz Baleni (Blossoming Cherry), is a new dance for the women in the group choreographed by the Director of the group. The women's costumes (designed after some of the modern costumes worn in Armenia) were made by the ladies and were new this year; they were a striking hit. The solid red flowing long dresses with a Peacock appliqué and matchng trim were quite impressive. The peacock was added on the front of the dresses as it represents eternity in the Armenian culture. The second dance was from Historic Armenian in the area of Erzerum. This dance stated slowly and then finished with a faster paced, energetic footwork. The Ensemble also presented a set of 4 dances in the Atrium performing area and taught an audience participation dance.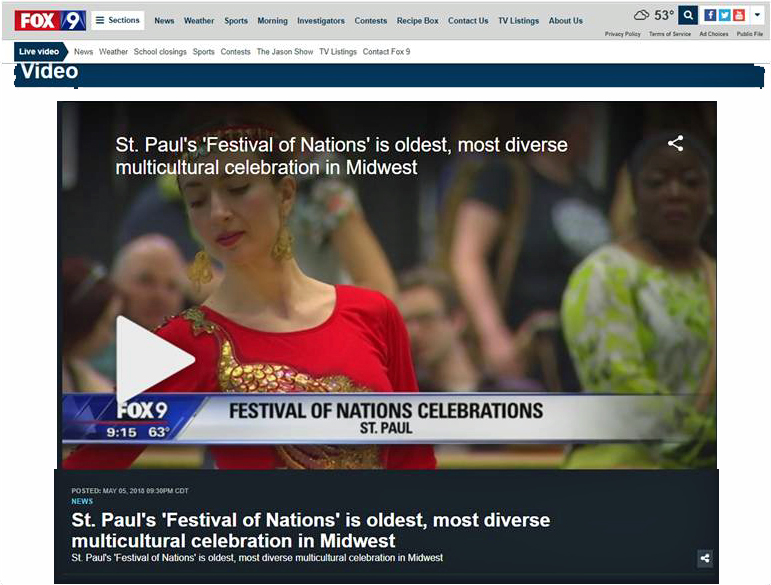 As a surprise, FOX9 News was taping a segment on the Festival and our group appeared in the News Video. Alarica was given some great close-ups in the clip. A great job by the Dance Ensemble.
If still active, alink tro the clip is: http://www.fox9.com/news/331881502-video