This month, take in an interesting documentary about a small Armenian college in Lebanon and its attempt at joining the world's space program.
Dr Paul Haidostian, President of HAIGAZIAN UNIVERSITY in Beirut, Lebanon, gave a talk on the evening of October 26, at St. Sahag. He was visiting his dear friends, Azad Mesrobian and family, in the Twin Cities, on his way to St. John's. It was a very interesting presentation.
He talked about a Franco-Lebanese documentary made in 2012 called "The Lebanese Rocket Society". In the 1960's, Lebanon was the first Arab country to start sending rockets into the sky. A small group of students - 9 out of 10 being Armenians - from the HAIGAZIAN UNIVERSITY led by Dr. Manoug Manougian, Physics Professor, began tests and launched their first rocket into space under the name Lebanese Rocket Society. The movie is in Arabic with English subtitles.
From IMDB: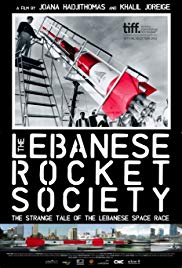 From 1960 to 1966, a space project was undertaken in Lebanon. Several rockets, which became larger and more powerful with time were launched from the hills surrounding Beirut by a group of scientists, university students and army experts. This group, led by Manoug Manougian, was called The Lebanese Rocket Society.

To view a movie trailer - click on the movie poster.
Movie starts at 7PM.
Potluck Snacks